Help Young Children Heal from Traumatic Events
Healing from traumatic events takes more than just expert treatment and therapy; it also takes the unconditional love of caring, safe adults. The Children's Place depends on volunteers to partner with staff to provide this consistent and dependable support system for children.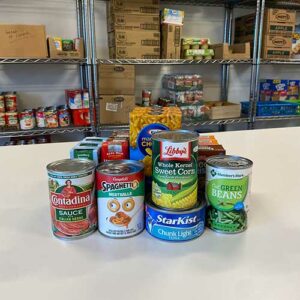 Collection drives play an important role in keeping our food pantry and clothing closet stocked. From fruit cups to winter coats, The Children's Place relies on the generous donations from our community to provide the many items we need to make the work we do possible. Shop our Amazon list and see our most urgent current needs here.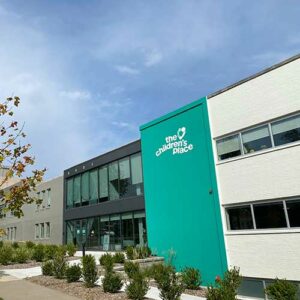 Facility Projects/Trash Pick-Up
Facility projects and trash pick-up are important in ensuring that The Children's Place remains a welcoming and safe environment for all clients and guests. Facility projects have included paint touch-ups, organizing storage areas, and putting together furniture and toys.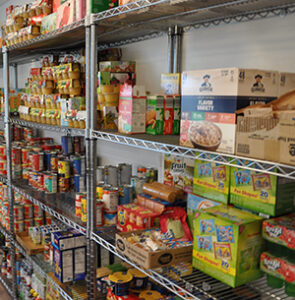 Help us fill backpacks full of food to send home with the children in our Day Treatment program to ensure they have plenty of food to eat all weekend long. This opportunity lasts approximately an hour and takes place on Thursdays at 10 a.m. This can be a one-time volunteer commitment or longer, and is open to volunteers ages 13 or older as long as they are accompanied by an adult. Learn more and sign up here.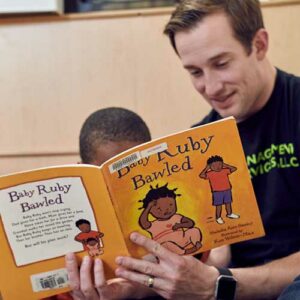 Storytime at The Place is an opportunity for volunteers to come to The Children's Place and be paired with one of our seven Day Treatment classrooms for Storytime! Storytime takes place every Thursday from 12-12:30 p.m., and volunteers are invited to join us for a single Storytime–no commitment required. Learn more and sign up here.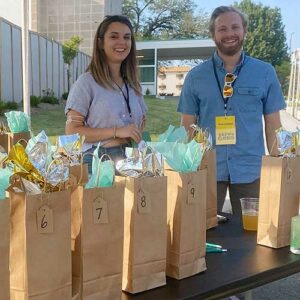 Our special events aren't possible without the time and talents of numerous volunteers. Help with crowd favorite events like Party for The Place, the Gratitude Bruncheon and Brews & Bites in areas ranging from check-in to selling raffle tickets. This is a great way to help out while having fun!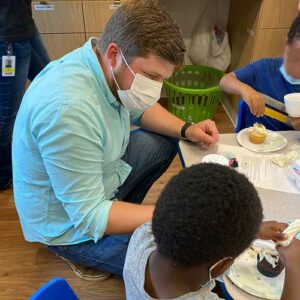 Special Projects/Crafts (for small groups)
Special volunteer projects with the children are an opportunity for small groups to get involved at The Children's Place. Previous projects have included flower pot planting, snow cone making and cookie decorating. These activities take place during the school day, typically from 10:30 a.m. to 11:30 a.m. or noon to 12:50 p.m. Volunteer groups should plan to bring the supplies for their activity.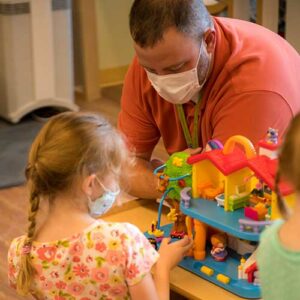 Weekly Classroom Volunteering
Classroom volunteers support teachers in the Day Treatment program as an extra pair of hands and eyes working directly with the children. This role is hands-on and can be physical. Requirements for classroom volunteering include a 4-month commitment to ensure stability for the children, a criminal background screening, and orientation. A TB Skin Test is also required and is the volunteer's responsibility.
Our first priority is the safety of the children. Our expert staff puts a big focus on consistency for each child at The Children's Place and we ask that all volunteers respect and understand that this is a place for children to heal as a mental health treatment agency.
Learn more about current or future volunteer opportunities by filling out the form below or contacting Christina Ocaña-Wilson, Volunteer & Stewardship Coordinator, at 816.363.1898 or ocana-wilsonc@childrensplacekc.org.