A Friendly Face to Welcome You to The Children's Place
This green, huggable, friendly Rudy Bear greets every child as they enter The Children's Place, with a large statue at our bus entrance where children enter each day to arrive at our Day Treatment program and a smaller statue at our main entrance greeting those who arrive for Assessments & Screenings, Counseling Center or Family Support Services.
When little ones see this lovable green teddy bear, they know that they are welcome here in this playful and friendly Place of healing.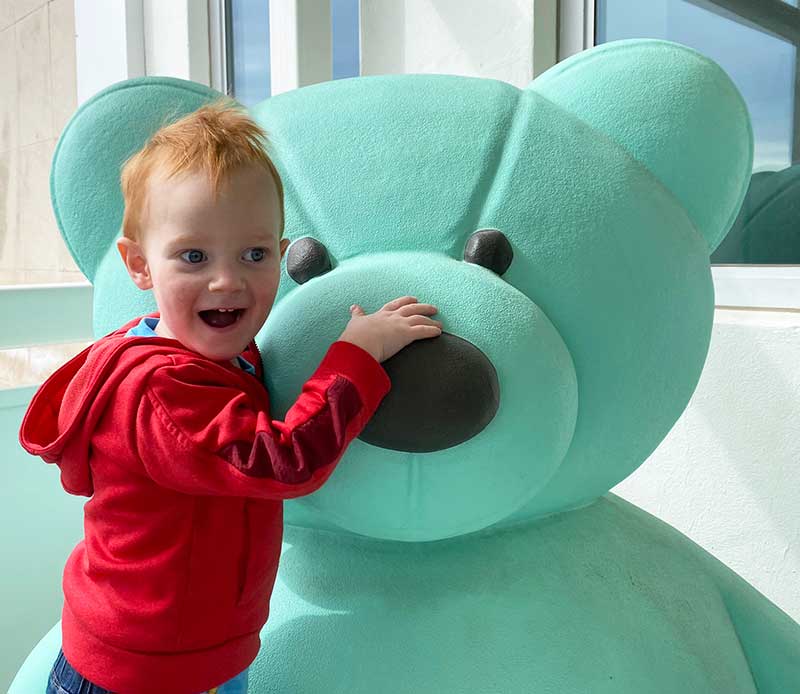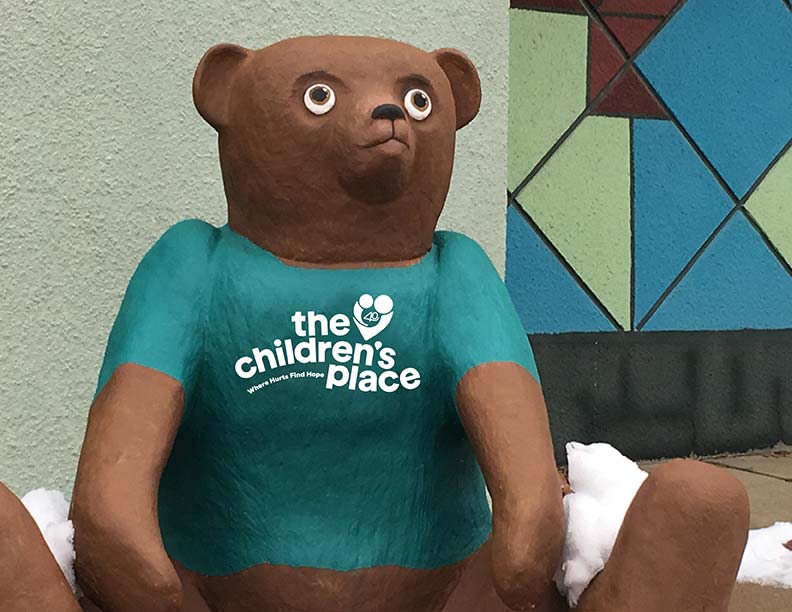 The Children's Place has long been associated with teddy bears, as a large bear statue sat outside our previous building on 59th Street and welcomed children as they entered. The iconic bear was so well-known that many knew The Children's Place as "the place with the bear." When we moved into our current location in 2020, we wanted to ensure that children had a friendly face to greet them as they entered this building as well, but the old bear statue was not structurally able to make the move.
We entered the process of creating a new teddy bear in this tradition, who would be able to withstand the elements outdoors while also providing an inviting and huggable presence for children as they entered our building. Rudy Bear was born.
The bear at our 59th Street location never had a formal name, but we knew that this new iteration deserved a name and personality of its own. Simultaneously, we were celebrating the retirement of Mr. Rudy Liggins, who taught at The Children's Place for 42 years, from the day we opened our doors in 1978 to 2020. It was only natural that Mr. Rudy's legacy would live on at The Children's Place in Rudy Bear.
Mr. Rudy was such an iconic presence at The Children's Place, a larger-than-life force at 6'6", who would bend down to the level of preschoolers each morning to greet them with a smile and a hug. Now Mr. Rudy's legacy continues as Rudy Bear greets every child who enters The Children's Place even today.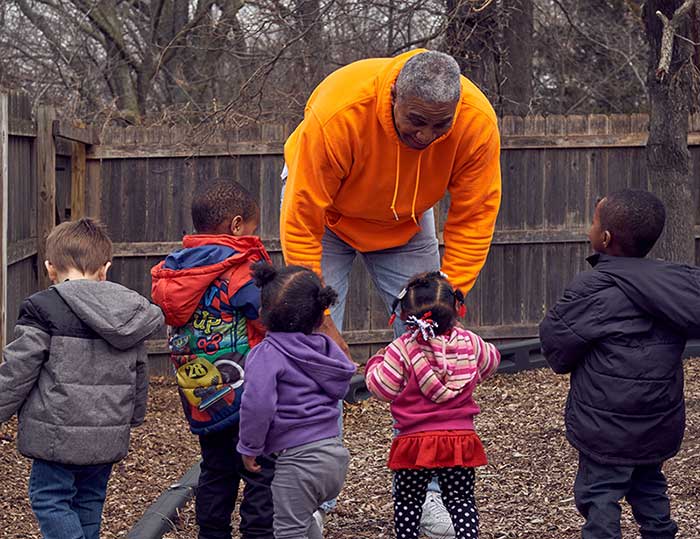 The Children's Place is grateful to two generous families who made Rudy Bear possible. Jim and Ann Tinsman provided a matching gift that helped fund the creation of the original Rudy Bear that sits at our bus entrance. A little over a year later, Bob and Phyliss Bernstein donated funds to add a second Rudy Bear statue that sits at our main entrance to ensure that all who enter the building are greeted by this green teddy.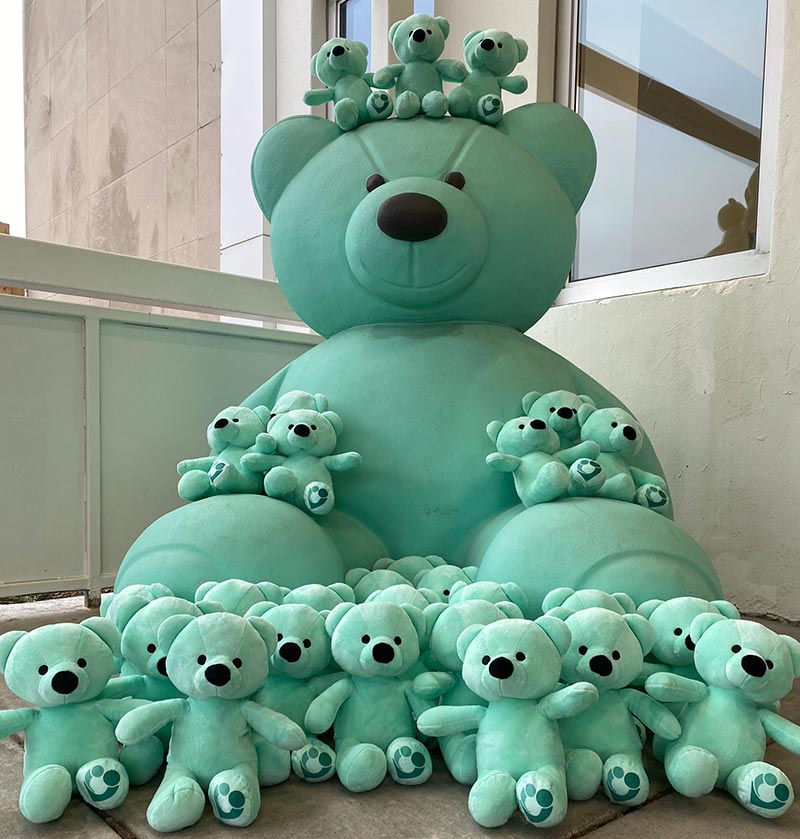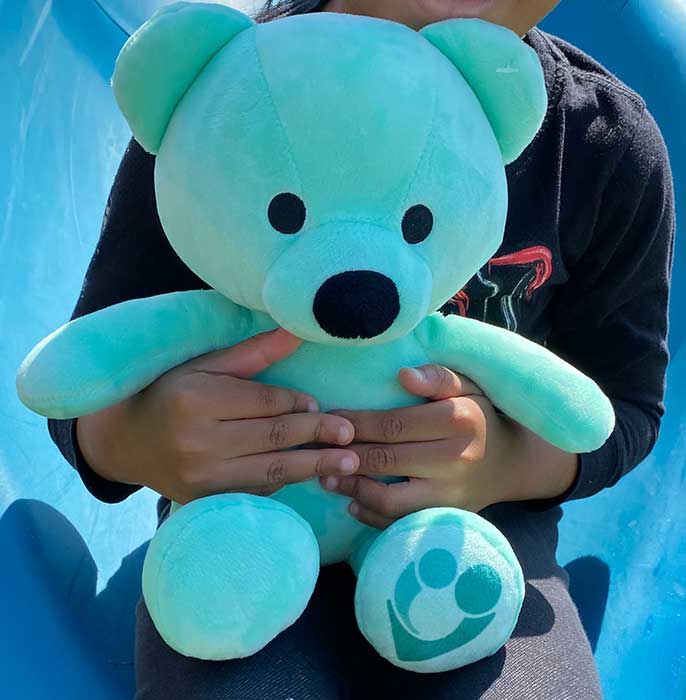 Rudy Bear has become such an integral part of The Children's Place that we wanted each child to be able to have their very own plush Rudy Bear to remind them of their time here. Thanks to dozens of generous donors, we created custom-designed plush Rudy Bears to give to each child when they leave The Children's Place.
Graduation from mental health services is an important milestone to honor and a significant ritual in the therapeutic process. Now when these little ones leave The Children's Place, they will receive their own teddy to snuggle during hard times and to play together. The same Rudy Bear who was there to greet them every day at The Children's Place will be right there with them at home.