The bus rolls in and one by one, the children bounce off, heading to another day in our Day Treatment program.
One little boy stops to rub Rudy Bear's nose. Even when things at home are tumultuous, he knows that the giant green teddy will be a friendly face greeting him at The Children's Place.
Next off the bus is a little girl, who is feeling sleepy after the early morning bus route and not quite ready for the day. She locks eyes with her therapist, who beams and tells her "Good morning!" She grins and reaches out her arms to this familiar face, who swoops her up and carries her to her classroom, along the way telling her how happy she is to see her this morning and what a great day they have planned.
Some little ones are reluctant to get off the bus. Transitions can be hard for children, especially those who have experienced traumatic events.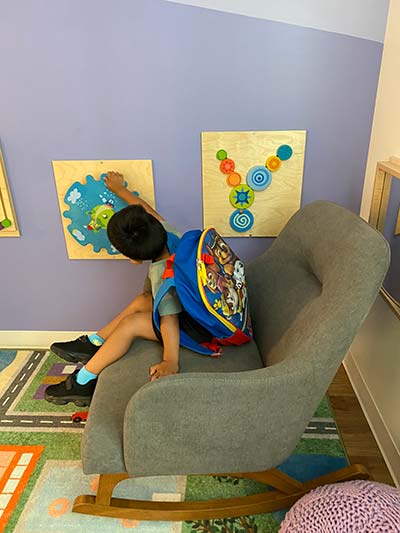 A therapist boards the bus to say good morning to one little boy hesitant to come inside the building. She asks whether he'd like to sit for a moment in our cozy nook, located just inside the door from the bus entrance. With low lighting and comfortable seats, this space provides a quiet sanctuary for anyone needing a minute to regulate themselves before entering the building or even when transitioning between activities throughout the day.
The child spends a few minutes exploring the nook quietly when the therapist asks if he's ready to walk to his classroom. He gives an enthusiastic yes, so she challenges him— "Let's race! Who's going to get to your classroom first—me or you?" They race off together toward the classroom, where he gleefully enters now prepared for the day.
Here at The Children's Place, we meet children where they are. This means something different for each child who enters the building, and it is even different for individual children day-to-day.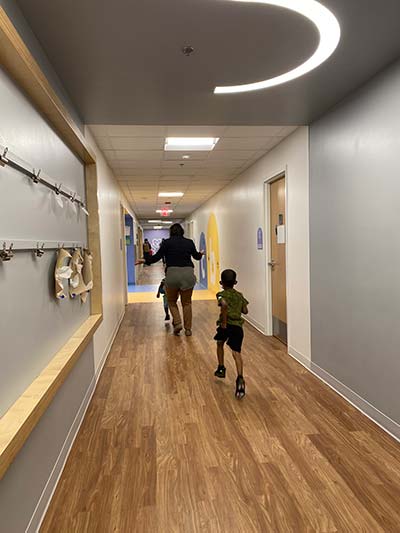 We know that when children have experienced traumatic events, they may not have had many choices up to this point in their life. They may not be choosing which kind of cereal to eat for breakfast or which toy to play with because their families may not have options in those areas. But when they arrive at The Children's Place, it's entirely their choice how they enter the building.
This gives each child a voice for themselves, to speak up to articulate their needs and desires. Whether they need a slow start to the day or they're excited and bouncing in for a day of fun, we'll be there for them and whatever their needs are for the day here at The Children's Place.
Learn more about our Day Treatment program, an intensive therapeutic early education center.
Sign up for email updates to hear more stories of healing and transformation at The Children's Place.